Tricycle Stroller – Mom's Top 4 Picks For Toddlers & Big Kids In 2022
Are you thinking about getting a new set of wheels for your toddler? Here are the best strollers that turn into trikes and everything you should know about them – including their benefits and drawbacks!
Tricycle stroller combo has 3 major benefits that may encourage you to invest in such a product:
There are push trikes that offer parent-facing position, so you can start using them from about 6 months. This way it grows with your baby from infancy well into toddlerhood. It may be an alternative for a

 

lightweight stroller!
It stimulates baby's motor, physical and cognitive development. It helps to teach the kids riding a bike, rules of the road, it's a great way to practice coordination and learn cause and effect. With parents help and assistance, babies can reach next developmental milestones. You can use it at first as a push bike, until your baby masters pedaling. It's also a great help for teaching independence. When your baby is ready, just detach unnecessary items (like grown-up handlebar, footrests, backrest and bumper bar).
It is so much fun! Kids just love trikes and usually they can't wait to hop on and go for a ride.
Of course as all baby gear items, tricycle stroller has some disadvantages too. Some models are quite expensive, some has pretty heavy construction (it's a trade off for durability…) and some don't fold down.
But don't worry! I picked 4 amazing trike strollers that offer best functionality and price-quality ratio. Below you can read my reviews. At the end I included also a cheaper alternative.
Doona Liki Trike S5

 

- If you're looking for medium-price trike made of high-quality durable materials - this is the best option. It's lightweight and folds down neatly.
Bentley Tricycle Stroller (6-in-1)

 

- This multi-functional stroller tricycle combo has THE BEST wheels. With the parent-facing mode you can use it even from 6 months. It has stylish details and the quality is unbeatable.
Joovy Tricycoo LX

 

- More affordable option suitable from 6 months. This is a great choice for big kids too, with the suitability up to 5 years!
SmarTrike STR7

 

- This folding stroller trike is lightweight and can serve you from infancy up to 3 years. It has lots of storage space, and it's also the most inexpensive option among these 4 trikes.

 

LOWEST PRICE - NOW 30% OFF (code: SAVE10)

 

?
Best Tricycle Stroller Combo – Reviews
The biggest differences between standard tricycle and tricycle stroller combo is that the latter one includes a push handle for caregivers who can steer it while their little one is learning pedaling. And as I mentioned earlier, some offer parent-facing mode which makes them similar to strollers.
Such a combo grows with babies, thanks to detachable elements you can use it in a stroller mode, push trike mode, and then when your baby is ready – in a tricycle mode. Good-quality tricycle stroller is something that will serve your family for a few years, as your little one gains new skills (usually from 6-9 months, even up to 3-5 years).
Each of these tricycles that I recommend here allow children to keep their feet on pedals and move the trike's handlebar as if they were riding a bike, without actually steering it or controlling the wheels. Until you decide that your kiddo is ready to steer the trike, you will have the full control.
Now let's get straight to the point.
The best tricycle strollers are:
What distinguishes Doona Liki Trike is that it's the most compact folding tricycle stroller! This makes storage and transportation much easier, ideal for small apartments or bringing Doona for a travel.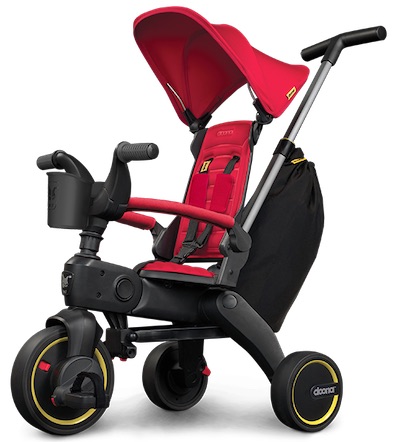 To fold the Liki down you just need to push a button, everything takes just a few seconds. Once it's folded, it doesn't take up a lot of space and fits even in small car trunks.
Another thing that I really like about this tricycle stroller combo is its weight. Liki weighs only 14.7 lbs which is similar to lightweight umbrella strollers! You won't have any problems with carrying it or lifting to the car trunk.
Let's check other the functions that Doona Liki Trike can offer your toddler.
It's suitable from 10 months, in a "parent mode". In this mode you have the seat facing out (unfortunately it's not reversible), and offers a slight recline so your child could rest a bit after all that excitement and exploring surroundings.
The backrest is nicely padded and cushy. For your child's safety Doona tricycle is equipped with a 5-point harness and a belly bar.
What I really like about Liki Trike is that you can mount the pedals higher or lower, so they double as foot rests for younger baby. These pedals have straps to keep your baby's feet securely in place, which I think is a big plus.

Around 18 months you can switch into "push mode" and remove the belly bar, as well as the sun hood – depending on your preferences, and the weather.
Around 24-30 months it's time to turn the stroller into a "toddler tricycle mode" and move the pedals lower.
And when your kiddo is ready, around 30 months, you can detach the parent handlebar and the backrest. This way he/she will be able to use Doona Liki in a "bike mode" and pedal by him-/herself.
But before your kid is ready to steer Liki, you will have the full control with the adjustable push bar. There is a storage bag attached to it, which looks like a sack. It's not huge, but it should fit your jacket or a blanket, some snacks and a bottle of water. It has capacity of 3.3 lbs.
In my opinion, additional toddler cup holder, that Doona Trike features, is a big advantage. You can put their a sippy cup, small snacks or your kiddo favorite toy.
Doona Liki Trike S3 vs S5 vs Midnight – Which Tricycle Stroller Is Best?
It's noteworthy that Doona has three types of tricycles right now: S3 Premium, S5 Deluxe and Midnight. What are the differences between these tricycles?

The biggest difference between Doona Liki Trike S3 vs S5 is that the latter one comes with a slightly different storage bag, features wooden handlebars (instead of rubber ones) and includes a travel bag. The Midnight tricycle version also comes with a travel bag, but this one has faux-leather handlebars and black aluminum frame. It is also the most expensive version.
In my opinion S5 tricycle is the best out of these 3 options, considering it's price, quality and functionality. But if you have smaller budget or don't plan to travel with it, the S3 tricycle will be a fantastic choice too! And in case it turns out later that you need a travel bag for it, you'll be able to order it separately (I found it for example on Amazon).
Doona tricycle stroller has larger wheel in the front and two smaller wheels in the back. Each has a wide and thick tire. They are non-inflatable and are pretty much smooth (no tread), so they work best on flat surfaces. On pavement with small cracks it should be fine too, but I wouldn't take it off road.
Considering Liki size, I wouldn't say that it's a big kid tricycle. But it's lightweight, foldable, durable, and in a medium-price range. All of that makes Doona tricycle stroller combo a good value for money.
| | |
| --- | --- |
| Tricycle Stroller Weight | 14.7 lbs |
| Dimensions | 36.8" x 19.6" x 40.35" |
| Fold | 12.5" x 23.6" x 9.1" |
| Min. Age Recommendation | 10 months |
| Weight Limit | 44.1 lbs (3 years) |
Bentley is a high-end, more luxury option in my ranking. It is a stroller that turns into a tricycle – isn't it just super useful and practical?

From 6 months you can use it like a stroller – with the seat facing you or the world. The seat actually rotates, so you can easily change its direction, without the need to remove and lift it. It's very convenient.
Bentley stroller was designed with infant's comfort in mind and the brand added additional footrest. So if you want to use it with younger baby who cannot reach to trike pedals yet, you don't have to worry that his/her feet would be dangling.
There is a footrest for younger infant which you can use both in parent-facing and front-facing mode. Once the child gets taller, you can start using the basic footrest that is mounted lower – this one works only when the kid is facing out. And once your kiddo gets big enough to reach pedals, he/she can start using them.
The seat is pretty up (curious toddlers will love it), but you can also recline it a bit in facing-parent mode. I assume that riding in Bentley will be so exciting that your child probably won't fall asleep… But in case he/she gets really tired, the recline should be sufficient for a quick nap on-the-go.
There is a 5-point harness to keep the child securely in place, and a bumper bar – for added safety.
The seat, the backrest and the headrest are nicely padded so your little one will be comfortable at all times.
Above the seat there is a canopy. Honestly, this is the most generous canopy I've seen on a toddler tricycle stroller combo. It provides lots of shade, and thanks to 50 UPF waterproof fabric your child is well protected from harmful sun rays and rain too. It is mounted pretty high which makes Bentley trike stroller comfortable for taller toddler too.
The canopy has a peek-a-boo window so you can check on your little one whenever you want.
For parents convenience there is a storage basket right between the rear wheels. It's not huge but your necessities should fit in there. There is additional storage – parent console – on the handlebar. It's very handy for keeping your valuables and cellphone within reach.

The thing that I love most about Bentley stroller trike combo is the quality of the wheels. Most of toddlers tricycles have small plastic wheels with thin EVA foam tire which makes them wobbly even on small bumps. But that's not the case with Bentley.
It has rubber tires filled with air, like a real bike! The tires are really wide and thick so the ride is cushy and the child doesn't feel all those shock when you hit the bump or crack in a sidewalk. If you're looking for a tricycle stroller that provides smooth ride – this is your best choice!
As I mention at the beginning of my review, Bentley is a stroller that turns into a tricycle – as your baby grows you can remove some parts, one by one, and adjust it to your child's age and developmental stage. This way Bentley will be always as much comfy and safe as possible.
Around 18 months you can remove the additional footrests, and depending on the child's height and preferences you can keep or detach the canopy and the basic footrest.
You will still have a full control and steer it with the parent handlebar. It's possible to push Bentley with one hand when going over smooth surfaces.
Around 24 months (or whenever your child is ready) you can remove the bumper bar and parent handle, and allow your kiddo to pedal by him-/herself. Around that age you should sill keep the back support and the harness, for your child safety.
When your kid turns 3, you can remove the backrest and harness belts – if your kid is ready to ride on the tricycle without any support.

The quality, craftsmanship and all details are fantastic. It can hold a kid up to 55 pounds so it may serve you for a few good years! In my opinion Bentley is also the best big kid tricycle.
I only wish Bentley trike could fold down. This is the only downside that I found, but majority of parents who have bought it agree it's still a worthy investment.
| | |
| --- | --- |
| Tricycle Stroller Weight | 28.2 lbs |
| Dimensions | 32.7" x 41.5" x 19.9" |
| Min. Age Recommendation | 6 months |
| Weight Limit | 55 lbs |
| Passenger Height | 24" to 3'8" |
In terms of features that Joovy tricycle offers, it is very similar to Bentley tricycle stroller and it can be a good, more affordable alternative for parents on a budget.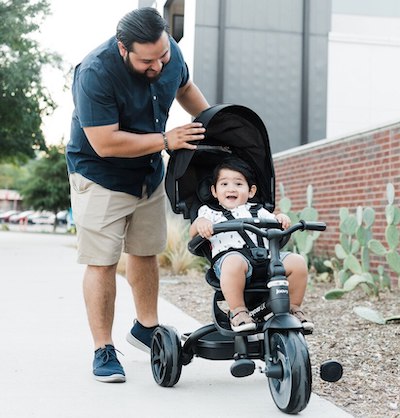 You can start using it around 6 months, with the seat facing you or out. It rotates, so you don't have to detach it and lift it to reverse it. Keep in mind that in "parent-facing mode", the seat recline is deeper, allowing the kid to take a nap.
This tricycle has generous, comfy padding, 5-point safety harness, bumper bar and additional detachable foot rests for younger passengers, just like Bentley stroller trikes.
Around 9 months you can start using the fully upright position. If your toddler likes to look around and observe everything during the stroll, he/she will love how straight the backrest is.
A big advantage is the sun canopy – its size is really impressive, and it also has a useful peek-a-boo window.
From 12 months and up you'll be able to use Joovy in "push trike mode" – just detach the additional foot rests, and allow you toddler to use the basic (foldable) foot rests. Around 18 months you can fold the basic foot rests, so your little rider can place their feet on pedals without controlling the wheels yet. He/she can also move the handlebar without actually steering the tricycle. At this time you can also remove the canopy.
According to Joovy's recommendations, at 24m+ you can remove the parent handlebar, and at 30m+ you can detach the backrest and bumper bar, if he/she doesn't need the support anymore and is able to pedal and steer by him-/herself finally.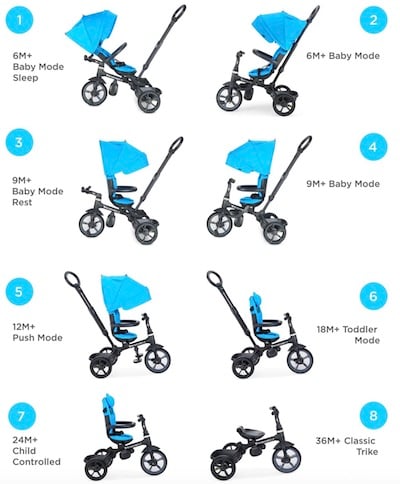 As you can see Joovy is another stroller that turns into a tricycle, just like Bentley tricycle stroller combo. The main difference between these two tricycles is the wheel design. Joovy doesn't have air-filled tires. Instead, it has EVR wheels – a mixture of EVA plastic and rubber. For hard-packed, flat terrains and indoor surfaces, they are sufficient.
PRO TIP:

 

If Joovy Tricycoo LX still exceeds your budget, there is more pocket-friendly tricycle: Joovy Tricycoo 4.1. The main difference is that the latter one doesn't offer parent-facing mode and it's suitable only from 10 months+, up to 44 lbs. But it weighs only 14.4 lbs and it is half the price of Tricycoo LX! You can find this tricycle >>

 

here

 

<<.
Joovy stroller trike combo is definitely worth consideration – it's about half the price of Bentley! If you're okay with wheels that work good only on smooth surfaces, than Joovy may be a good choice for you!
| | |
| --- | --- |
| Tricycle Stroller Weight | 25.4 lbs |
| Dimensions | 39.4" x 20.9" x 41.1" |
| Min. Age Recommendation | 6 months |
| Weight Limit | 55 lbs (5 years) |
---