One hand folding strollers
STROLLING MADE ELEGANT
LECLERC STROLLERS
Designed in Europe for a lifestyle on the go, these strollers exude elegance in their simplicity
Made with exceptionally comfortable material, these strollers embody elegance.
STROLLING MADE EFFORTLESS
Designed to fold and unfold with one hand and in a matter of seconds, these strollers truly are your ultimate companion on the go.
The strollers fold down to compact size that take minimal space in your car and are lightweight enough for you to carry around all day.
Bassinette Compatible
READY TO USE FROM BIRTH
Leclerc scooters are designed to be used from the very first day with their accompanying ultra comfortable and protective bassinette.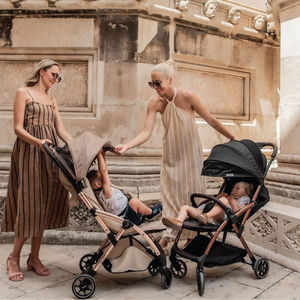 ACCESSORIES GALORE
Designed to make your everyday life easier, our range of bags, footmuffs, wheel boards etc., can solve anything you may need to make your daily strolls simpler.